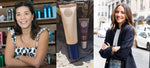 Article adapted with permission from SomethingNavy.com 
What's better than one passionate, tireless, visionary female entrepreneur? Two, of course. Soleil Toujours' CEO & Founder Valerie McMurray sits down virtually with Arielle Charnas, Something Navy's Founder and Chief Creative Officer to discuss being pioneers in their industries, supporting and partnering with other female-founded companies and to assure us that yes, all bad a** women wear sunscreen daily. Here are the highlights.
Question: Arielle and Valerie, not only are you both successful entrepreneurs, but you are female founders. What does that title mean to you?
Arielle Charnas: For me, all of my strategic and everyday decisions boil down to my principles as a woman. Whether it's showing fashion that everyday women can incorporate into their lifestyles, or discussing my life from the perspective of a female in business, everything at Something Navy comes back to the lens of a female founder. Our team is primarily women, and we strive to consider what women from all backgrounds and walks of life want to see, hear, and wear.
Valerie McMurray: Female founders account for only 20% of global startups (according to Crunchbase in 2019). Being able to juggle three children, plus starting and running a business requires a ton of multitasking. But I love that my children are seeing me succeed at something I'm passionate about. I started Soleil Toujours knowing nothing about the skincare business. We are a small lean team and everyone pitches in on all fronts, regardless of title. It's an all-hands-on-deck situation where everyone is considered family. As a result, everyone is passionate about growing and succeeding because in the end, it is our collective business.
Question: Why is supporting and partnering with other female-founded companies important to you?
Valerie McMurray: Arielle and the business she has built is truly inspiring. We learn from each other and support each other in so many different and amazing ways.
When I worked in finance, I unfortunately did not have any women colleagues or supervisors who I could look to as mentors or for support–I found it to be incredibly competitive. Working with women like Arielle is how it should be. We are all in it together and the more we help each other out, the more we are able to grow individually and collectively.
Arielle Charnas: By building up other women and supporting the community of female founders as a whole, we are ensuring an equal pathway for future generations. The only way to do this is to support one another, to stand side by side, and to collectively expand opportunities for women in business. It's just one of many reasons why I love working with Valerie and Soleil Toujours!
Question: Valerie, can you tell us about the inspiration behind Soleil Toujours?
Valerie McMurray: Soleil really came to life out of a need for a better, safer, and beautiful feeling sunscreen for my family that didn't exist on the market. At the time, I had a full-time job in finance and a side hustle making swim cover-ups. After I started creating coverups, I made a line of swimwear for women and men too. Then, I thought my next product would be sunscreen.
My true inspiration behind my sunscreen was my mother. Originally from the Philippines, she studied at the University of the Philippines and in France at the Sorbonne before moving to New York City, where she worked at the United Nations for 35 years. All of her friends were French, German, Russian, Spanish–from every part of the planet! She had a worldly sensibility, spoke five languages, and was incredibly elegant.
I always remembered her having a tube of Bain de Soleil in her bathroom at all times. Everyone reading this is probably too young to remember the brand, but Bain de Soleil was all about glamour and elegance with the tagline "Bain de Soleil for the St. Tropez tan."
I decided I needed to bring glamour back to sunscreen, but most importantly, with the cleanest and most effective ingredients possible. When I was pregnant with my third child, I started doing research and I discovered the majority of sunscreens on the market were loaded with toxic chemicals. At the time, all sunscreens were mass-market brands with nothing glamorous or chic about them. I set out to create a better version with Soleil Toujours!
Question: Arielle and Valerie, what Soleil Toujours products are always in your skincare cabinet?
Arielle Charnas: The Mineral Ally Hydra Lip Masque SPF 15 and the Clean Conscious Antioxidant Sunscreen Mist SPF 50! The combination of those two products have been keeping my skin super hydrated and fresh.
Valerie McMurray: I never leave home without any shade of our Mineral Ally Hydra Lip Masque SPF 15. They are incredibly hydrating! I also use our Mineral Ally Daily Face Defense SPF 50. I have nasty melasma, so I need to wear mineral sunscreen every second possible while outdoors, no matter the weather. Finally, I love our Organic Cocofleur Antioxidant Hydrating Mist. I use it to refresh and hydrate my skin, especially on hot summer days and whenever I get on or off a plane.
Question: Soleil Toujours recently unveiled chic new packaging. Valerie, can you walk us through your new look?
Valerie McMurray: I call it our "COVID refresh." I knew I wanted to upgrade our packaging with more eco-friendly materials, so we hired an amazing branding firm to help us redesign the overall look and feel and replaced 95% of our petroleum-based plastic packaging with bioplastic made of sugarcane, ocean waste, or PCR plastic.
This summer people have been chomping at the bit to get out of the house, travel, and just be outside with friends. After being indoors and quarantined for over a year, we still really need to protect our skin!
Question: Arielle and Valerie, what words of wisdom do you live by?
Arielle Charnas: Follow your gut instinct.
Valerie McMurray: You get what you give. I tell my children this all the time. You cannot expect things or success to just happen to you. The more effort and heart you put into things, the greater rewards and success you will reap.
Shop Arielle and Valerie's Soleil Toujours Must-Haves: