The crisis is real.   Two weeks ago, scientists from the Nature Conservancy described a dire situation for Hawaii's reefs and marine life.   Hawaii is home to at least 85 percent of the United State's coral reefs and the National Oceanic and Atmospheric Administration estimates that from 2014 to 2015, 56% of the Big Island's coral are bleached, along with 44% along West Maui and 32% around Oahu.  Bleached corals ultimately leads to the death of corals.  The study also shows that the Caribbean has lost 80 percent of its coral reefs in the last 50 years. Why do we care?...
---
Sunscreen is the single most important part of any skincare regime. It is the most effective solution for anti-aging and protects against cancer-causing UVA and UVB rays. But what if your sunscreen was doing you more harm than good? Oxybenzone is an ingredient used in over 40% of sunscreens that can cause hormonal imbalances, birth defects, and allergic reactions (EWG's Worst Scoring, 2017). This compound has the ability to penetrate the skin and enter the bloodstream. A study done by the U.S. Center for Disease Control showed that oxybenzone was found in 97% of the people tested (CDC: Americans, 2008)....
---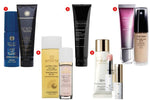 What's the one thing you should never leave the house without? Sun protection, of course. Sun damage is a very real thing, but making SPF a part of your daily routine is the first step in preventing it. These five brands carry foolproof products for everyday use that will protect your skin now and later. Who needs a real tan anyway?! Soleil Toujours: Soleil Toujours is our one-stop-shop for all things sun. Start your morning with the Mineral Sunscreen Glow S.P.F. 30 for a lightweight, tinted glow that will leave your skin hydrated and protected until sunset. Then, finish off...