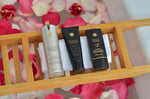 Valentine's Day is around the corner! Are you still looking for the perfect gifts for loved ones? Find our favorites below!
Our Hydra Volume Lip Masque is the perfect Valentine's Day gift  - the handy size and luxurious ingredients will leave their lips feeling supple and moisturized all winter. Or, you can treat yourself!
Jillian Dempsey's Cheek Tints are superb gifts for the beauty lover in your life. These cream blushes leave a wash of color on the cheeks and are super easy to use. Dempsey's makeup is organic and formulated with naturally derived ingredients - like ours. These are also paraben free and vegan. Use with our 100% Mineral Sunscreen Glow SPF 30 for a simple everyday look.
Tatcha's Luminous Dewy Skin Masks will leave you wanting to buy a few for yourself. The impeccable ingredients leave the skin glowing from within - so much so you won't want to wear makeup (sunscreen is still a must!).
Our Organic Set + Protect Micro Mist SPF 30 is essential for anyone that likes to set their makeup or replenish their SPF protection throughout the day (which should be everyone!). It is travel-friendly and fits perfectly in a toiletry bag or purse. It's a great gift idea for men and women!
Soleil Toujours takes protecting the environment very seriously so we love to support other companies that do the same. Everlane's Twill Weekender is for the constant traveler. Its lightweight and 100% water-resistant design is carry-on approved.
Our Organic Aloe Antioxidant Calming Mist is a must for those living in harsh climates where windburn or dry, cold weather leave the skin yearning for some hydration. Our mist is formulated without all of the bad stuff: parabens, synthetic fragrances, and sulfates so you can be sure you are only gifting quality products.
We hope you enjoyed this Valentine's Day gift guide. Let us know if you will be adding any of these to your shopping cart or if you are treating yourself!