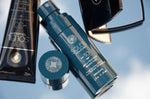 Let's face it - we are living in an era full of breakthroughs. Thanks to technology and the constant access to information, consumers are discovering products that are best for their health.
There is a growing number of consumers that are rejecting the harmful chemical-infused formulations for more naturally based, organic and antioxidant-packed alternatives. This movement not only results in a thriving marketplace - it also predicts the future of skincare as we know it.
The Rise Of Organic Skincare In Numbers
This trend was also converted to numbers. According to research by Grand View Research, the global organic market is likely to reach around $16 billion by 2020. A new market analysis by Persistence Market Research has confirmed these numbers and shown that they could actually increase substantially further. Their figures suggest an approximate growth of 8-10% of this trend per year, resulting in an estimated value of $22 billion by 2024.
Obviously, skincare maintains the top billing in the global organic beauty market, and the reasons for this are obvious. In times when every woman is looking for the skincare remedies that focus on reducing the appearance of fine lines and wrinkles and that ultimately help reverse the premature aging process, organic products seem to offer the perfect answer that is taken directly from mother nature.
What Do Organic Skincare Products Have To Offer?
Replacing the common chemicals including parabens, synthetic colors and phthalates to name a few, organic products are safer, healthier and result in a non-toxic skin care regime that significantly adds up the list of advantages over time. Even though organic skincare is seen as a luxury by many people nowadays, the premium price is worth paying for.  At the end of the day, investing in top quality organic skincare matters.
Our brand, Soleil Toujours, is actively participating in this new movement and offering safe mineral and organic sunscreen products that accent the beauty of natural skincare. You can find our products in our online store, Net-a-Porter, Blue Mercury, Barneys, Dermstore, or your favorite luxury travel destinations such as Mexico, Turks & Caicos, Cabo San Lucas and Dallas.