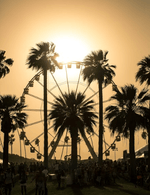 April is here, which means one of the biggest music festivals of the year is happening: Coachella!
Whether or not you will be attending this music and art festival in the California desert, you can never go wrong with packing a sunscreen kit. Here are our must-haves for all events in the sun!
Organic Set + Protect Micro Mist SPF 30
This travel-friendly sunscreen mist is packed with antioxidants and our EcoSun Complex, a composition of red algae, vitamin C ester, vitamin E and bisabolol. Helps to: boost SPF, reduce UV-induced skin damage, prevent loss of firmness, and increase skin smoothness. The fine mist sets makeup too so you do not have to worry about messing up your festival look. Be worry free and enjoy the music with this on the go necessity.
Perpetual Radiance Eye Glow + Illuminator SPF 15
The delicate skin around the eye is often forgotten when applying SPF. Keep eyes looking bright and awake with this travel and festival friendly eye glow with SPF 15. Not only is it a great eye illuminator, but it can also be used as a face highlighter. Now, keep your skin looking radiant and protected. The cooling ZAMAK applicator stimulates cell function and feels sensational against tired and stressed eyes and the Myristoyl Pentapeptide-11 helps maintain & restore skin elasticity, reduce wrinkle depth, preserving smooth, younger looking skin.
Organic Aloe Antioxidant Calming Mist
After a weekend in the desert sun, your skin will be craving some reprieve. Our Organic Aloe Antioxidant Calming Mist is formulated with organic aloe, green tea leaf extract, pomegranate extract, and grape seed oil and extract to calm burns, itchiness, and chafing.
The green tea leaf is full of antioxidants that fight cell damage caused by free radicals. Organic Aloe Leaf Juice acts as a protective layer on the skin, helps replenish its moisture and improves its natural firmness because of the plethora of antioxidants including, beta carotene, vitamin C and E found in aloe. Aloe vera contains two hormones: Auxin and Gibberellins that provide wound healing and anti-inflammatory properties that reduce skin inflammation.
After Sun Rescue + Repair Brightening Serum
Continue to repair skin after spending days in the sun with our serum formulated with ingredients backed by science. Arabidopsis Thaliana (Roxisomes) work as mDNA repair enzymes that repair the damage done by oxidative stress that would otherwise lead to cell death. The Haberlea Rhodopensis Leaf Extract helps plants survive in droughts and increases skin elasticity and radiance. The Morus Alba Leaf Extract, due to naturally occurring components mulberroside A and F, helps prevent excess melanin production and reduces new melanin formation in the skin. Read more about the rest of the ingredients on our site!