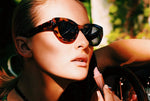 Anyone who has even dipped their well-pedicured toes into the skincare scene knows one thing: prevention is better than correction. All the Botox in the world won't compete with the healthy glow of a diligently protected face. But for all its proven effectiveness and dermatologist recommendations, it's just not glamorous to slather on regular old sunscreen every morning. Beauty junkies will dish out for top-of-the line toners, cleansers, highlighters and foundations, but when it comes to sunscreen, the options are far and few between.
Valerie McMurray spotted this gap in the industry and saw an opportunity to create a brand that blurred the lines between sunscreen, skincare, and beauty. Her pioneering line of luxury, nontoxic sun protection, Soleil Toujours, is inspired by the epitome of a glamorous cult classic. "My mom, she always had a bottle of Bain de Soleil. It was this sexy aspirational sunscreen. But it was full of junk! And there was nothing new on the market that had that allure. There was no elegant, clean sunscreen," McMurray remembers.
McMurray was no stranger to the industry when she launched Soleil Toujours. Her line of upscale beach caftans had been sold at exclusive international resorts for a few years and garnered a reputation for being the beachside accessory. She had her finger so precisely on the pulse of the luxury vacationer market that boutique owners began imploring her to expand into sunscreen, as well. "One of them, in Barbados, called me and said, 'I have the duchess coming and Gwyneth Paltrow and I have nothing I feel comfortable giving them,'" McMurray recalls. "At the time, there was California Baby. It was chalky, white, and thick. I thought — you know, I'm not going to do plain old sunscreen. That doesn't interest me. I want to change the face of sunscreen; not only from an aesthetic perspective, but in terms of the formulation." She recognized there were key elements in the over $500 billion beauty industry that were desperately lacking in the barely $2 billion sun care market—namely, a focus on aesthetic and experience. She knew that in order to make a splash, she would need to take a beauty-inspired approach to her brand, starting with the name. "It means Sun Always, and it has this exotic, Saint-Tropez feeling to it. And I felt I needed to do something radically different with packaging, so we went with black. It was just all an entirely new concept for the industry," McMurray explains.
McMurray was also pregnant at the time, which had tuned her into the dangers of chemicals in beauty products. She was adamant that her sunscreen brand would be both haute and harmless. "My goal was, and is, to really make sunscreen daily. In order to do that, we have to have amazing ingredients. Our formulas are really combining skincare and sun care, incorporating advanced anti-aging ingredients, peptides, ceramides, antioxidants. You think about how huge the skincare market is, but if you don't wear sunscreen every day—why bother?" As the beauty industry becomes increasingly conscious, big brands have started to jump on the Clean Beauty bandwagon—but Soleil Toujours was always blazing that trail. "Where I do see sunscreen changing overall is in the ingredients," McMurray says. "Hawaii recently passed a law banning a few toxic ingredients that we've never even used in our formula. Other brands are being forced to relaunch or rebrand, but we've been clean from the start."
Soleil Toujours offers refined sun care that fits naturally into the ritual of cleansing, serums, creams, and oils many women partake in on a daily basis. It isn't skincare with SPF, or sunscreen with a few moisturizing elements tossed in—it's defined an entirely new category of beauty-first sun care. "The other sunscreens out there are either pure-play sunscreen," McMurray explains, "or tinted here, SPF there—they're not really beauty-first." And when your sunscreen feels just as luxurious as your Creme de la Mer, it's not difficult to create a daily habit.