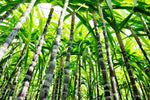 We are thrilled to announce our 2020 initiative to replace 95% of all petroleum-based plastic packaging (a non-renewable resource) with new Bio-plastic sourced from sugarcane. This represents one of our key missions to put our environment first in all that we do. 
Why sugarcane?
1) Sugarcane crops are carbon sinkholes - the natural process of photosynthesis sees carbon actively captured meaning the polymer is initially carbon negative.
2) Sugarcane is a renewable resource - there's no loss of valuable non-renewable fossil fuels
3) Sugarcane resin generates far fewer carbon dioxide emissions during production.
4) Sugarcane-based plastic is 100% recyclable and being non-biodegradable means that the polythene can be used in the recycling mix indefinitely
Please watch the space as we work to implement this massive undertaking of replacing 95% of our petroleum-based plastic packaging components throughout 2020. We would love you to join us in this important movement to promote a sustainable and environmentally friendly solution. 
Here is a short video showing how the sugar cane process works...